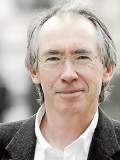 Ian McEwan, CBE, FRSA, FRSL, (born 21 June 1948) is a Booker Prize-winning English novelist and screenwriter.
McEwan's first published work was a collection of short stories, First Love, Last Rites (1975), which won the Somerset Maugham Award in 1976. The Cement Garden (1978) and The Comfort of Strangers (1981) were his two earliest novels. The nature of these works caused him to be nicknamed "Ian Macabre."These were followed by three novels of some success in the 1980s and early 1990s.
His 1997 novel, Enduring Love, about the relationship between a science writer and a stalker, was extremely popular with critics, although it was not shortlisted for the Booker Prize. In 1998, he was awarded the Booker Prize for his novel Amsterdam. His next novel, Atonement, received considerable acclaim; Time Magazine named it the best novel of 2002, and it was shortlisted for the Booker Prize. His next work, Saturday, follows an especially eventful day in the life of a successful neurosurgeon. Saturday won the James Tait Black Memorial Prize for 2005. His most recent novel, On Chesil Beach, was shortlisted for the 2007 Booker Prize. McEwan has also written a number of produced screenplays, a stage play, children's fiction, and an oratorio.
---