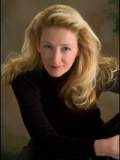 Jessica Rowley Pell Bird is an American author. Under her real name, she writes contemporary romance novels. As J.R. Ward, she writes paranormal romance. She has received the Romance Writers of America RITA Award.
Jessica Bird is the daughter of W. Gillette Bird, Jr. and Maxine F. Bird. She began writing as a child, penning her thoughts in diaries as well as inventing short stories. The summer before she went to college she wrote her first book, a romance novel. After that, she wrote regularly, but for herself. Bird attended Smith College where she double majored in history and art history, concentrating on medieval period. She then received a law degree from Albany Law School and worked in healthcare administration for many years, including as the Chief of Staff at Beth Israel Deaconness Medical Center in Boston, Massachusetts.
In 2001, Bird married John Neville Blakemore III. Her new husband encouraged her to try to get an agent and market her manuscripts. She found an agent, and in 2002 her first novel, a contemporary romance called Leaping Hearts, was published. Several years later, Bird invented a world populated by vampires and began writing single-title paranormal romance novels under the pen name J.R. Ward. These novels are a series, known as the Black Dagger Brotherhood.
---