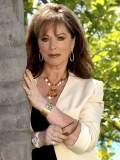 There have been many imitators, but only Jackie Collins can tell you what really goes on in the fastest lane of all. From Beverly Hills bedrooms to a raunchy prowl along the streets of Hollywood; from glittering rock parties and concerts to stretch limos and the mansions of the power brokers -- Jackie Collins chronicles the real truth from the inside looking out.
Jackie Collins has been called a "raunchy moralist" by the late director Louis Malle and "Hollywood's own Marcel Proust" by Vanity Fair magazine. With over 400 million copies of her books sold in more than 40 countries, and with some twenty-six New York Times bestsellers to her credit, Jackie Collins is one of the world's top-selling novelists. She is known for giving her readers an unrivaled insiders knowledge of Hollywood and the glamorous lives and loves of the rich, famous, and infamous! "I write about real people in disguise," she says. "If anything, my characters are toned down -- the truth is much more bizarre."
Jackie Collins started writing as a teenager, making up steamy stories her schoolmates paid to devour. Her first book, The World is Full of Married Men became a sensational bestseller because of its open sexuality and the way it dealt honestly with the double standard. After that came The Stud, Sinners, The Love Killers, The World is Full of Divorced Women, The Bitch, Lovers And Gamblers, Chances, and then the international sensation, Hollywood Wives -- a #1 New York Times bestseller, which was made into one of ABC's highest-rated miniseries starring Anthony Hopkins and Candice Bergen.
---