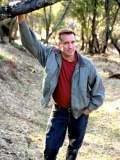 James Rollins and James Clemens are two of the pen names of American veterinarian Jim Czajkowski (born 1961), author of bestselling fantasy and action-packed adventure-thrillers such as Subterranean (1999), Excavation (2000), Deep Fathom (2001), Amazonia (2002), Ice Hunt (2003), Sandstorm (2004), Map of Bones (2005), Black Order (2006), The Judas Strain (2007), and The Last Oracle (2008). He sold his veterinary practice in Sacramento, California, to concentrate full-time on writing.
James is an amateur spelunker and a certified scuba diver. These pastimes provide much fodder for his novels, which are often set in underground or underwater locales.
Among those who have inspired him, James cites the authors of the Doc Savage series. As a youth, James had acquired an extensive collection of Doc Savage novels, but, he says, he remained oblivious to their influence on him as a novelist until one of his fans brought this matter to his attention.
---