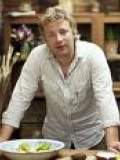 James Trevor 'Jamie' Oliver, MBE (born 27 May 1975), frequently nicknamed The Naked Chef, is an English chef and media personality well known for his growing list of food-focused television shows, his more recent roles in campaigning against the use of processed foods in national schools, and his campaign to change unhealthy diets and poor cooking habits for the better across the United Kingdom.
On 24th June 2000 Oliver married former model Juliette 'Jools' Norton. The couple met in 1993 and have four children, three daughters: Poppy Honey Rosie, Daisy Boo Pamela, and Petal Blossom Rainbow. Baby boy Buddy Bear Maurice arrived in September 2010. Oliver announced Petal's birth via Twitter. They live in Clavering, Essex.
The Naked Chef (1998-1999) was Jamie Oliver's first series. The title was a reference to the simplicity of Oliver's recipes, and has nothing to do with nudity. Oliver has frequently admitted that he wasn't entirely happy with the title, which was devised by producer Patricia Llewellyn. (In the UK edit of the show, the opening titles include a clip of him telling an unseen questioner, "No way! It's not me, it's the food!") The success of the programme led to the books Return of the Naked Chef and Happy Days with the Naked Chef.
---