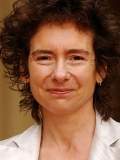 Jeanette Winterson OBE (born 27 August 1959) is a British novelist.
Winterson was born in Manchester, England and raised Accrington Lancashire by adopted parents Constance and John William Winterson. On track to becoming a Pentecostal Christian missionary, she began evangelising and writing sermons at age six, but by sixteen Winterson declared she was lesbian and left home. She soon after attended Accrington and Rossendale College and supported herself at a variety of odd jobs while earned her bachelors degree in English literature at St Catherine's College, Oxford.
After moving to London, her first novel, Oranges Are Not the Only Fruit, was published when she was twenty-four years old. It won the 1985 Whitbread Prize for a First Novel, and was adapted for television by Winterson in 1990, which in turn won the BAFTA Award for Best Drama. She won the 1987 John Llewellyn Rhys Prize for The Passion, a novel set in Napoleonic Europe.
---