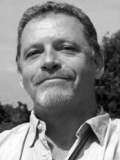 Jeff Lindsay is the pen name of American playwright and crime novelist Jeffry P. Freundlich (born July 14, 1952), who lives in Cape Coral, Florida with his wife, author Hilary Hemingway, daughter of Leicester Hemingway and niece to Ernest. Lindsay is best known for writing the Dexter series of novels. Many of his earlier published works include his wife as a co-author. Time Blender was written with Michael Dorn. He graduated from Middlebury College, Vermont, in 1975.
The first book in the series, Darkly Dreaming Dexter, was included on the original nomination list for the Mystery Writers of America's Edgar Awards in the Best First Novel category. However, it was dropped from the list after the group learned that Lindsay had put out several books in the 1990s under another pen name, Jeffrey P. Lindsay.
Dexter aired as a 2006 TV series on Showtime with the first season loosely based on Darkly Dreaming Dexter. The second season aired the following year and the third premiered in September, 2008, but both are original storylines that do not follow the plot of the books.
---