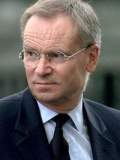 Jeffrey Archer was born in London, brought up in Somerset, the son of a printer, and educated at Wellington School, and Brasenose College, Oxford. After leaving Oxford Jeffrey Archer was elected to the Greater London Council, and three years later at the age of 29, he became Member of Parliament for Louth. After five years in the Commons, he invested heavily in a Canadian company called Aquablast, on the advice of the Bank of Boston. The company went into liquidation, and three directors were later sent to jail for fraud. Left with debts of 427,727, and on the brink of bankruptcy, he resigned from the House of Commons.
Aged 34, Jeffrey wrote his first novel Not a Penny More, Not a Penny Less. Jeffrey is also a successful playwright. He was made a Life Peer in the Queen's Birthday Honours List of 1992.
Archer was Deputy Chairman of the Conservative Party from September 1985 until November 1986. Having run a successful campaign for Mayor of London for two-and-a-half years, from 1997, Jeffrey Archer was selected as the official Conservative Party Candidate for London's Mayor in October 1999 by an overwhelming majority. In November that same year, he withdrew his candidacy, having been charged with perjury and conspiracy to pervert the course of justice. He was sentenced to four years imprisonment, and was released in July 2003, having served two years.
---