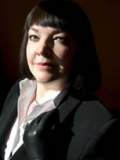 In early January 2008, Jessie was sitting under a quilt, toying with the idea of playing a DVD and contemplating her future, which wasn't looking too rosy, as she's just got another rejection slip to add to the pile. These rejection slips - varying from coldly polite to a brusquely scribbled not interested have finally convinced herself that she is never going to be a writer. So she makes a decision, then and there that she was going to give up writing and retrain as something else. Having made the decision, she felt better. She relaxes and watches her DVD. It's The Krays. The Krays are rampaging across London's East End in the swinging sixties like twin Caligulas on bad acid. Something happened...she started wondering what it would be like if a woman were to be there, mixing it with the big boys. Jessie left the comfort of her quilt and grabbed a pen and paper. And just like that, Annie Bailey is born.
Jessie has done a lot of writing since that January day under the quilt, but way back before she even dreamed she could be a professional writer, she was just the youngest in a big family. Her Dad was a surveyor with an edge of brilliance. Her Mum was from gipsy roots and used to drive around in a goat-cart when she was little. Once Jessie's family were rich and then suddenly pretty shockingly, really they were poor (thanks to greedy people who exploited her dad's kindness).
For a while back there when the stuff really started hitting the fan, Jessie lost her way. Started skipping school, worried her Mum, dated bad boys (her first proper boyfriend was a car thief, and not even a good one he got caught) and even badder men. But things settled. The fog cleared. And all the hard, horrible stuff bankruptcies, betrayals, burials of loved ones, crap jobs and living on the edge of desperation, but eventually that stuff starts to hurt a little less. Now, since that day under the quilt Jessie writes a lot. But that's no hardship, because she loves it and feels that's what she was always meant to do.
---