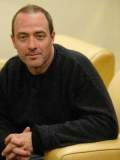 John Birmingham grew up in Ipswich, Queensland and was educated at St Edmunds Christian Brother's College in Ipswich and the University of Queensland in Brisbane. His only stint of full time employment was as a researcher at the Defence Department. After this he returned to Queensland to study law but he did not complete his legal studies, choosing instead to pursue a career as a writer. He currently lives in Brisbane.
While a law student he was one of the last people arrested under the state's Anti Street March legislation. Birmingham was convicted of displaying a sheet of paper with the words 'Free Speech' written on it in very small type. The local newspaper carried a photograph of him being frogmarched off to a waiting police paddy wagon.
Birmingham was first published in Semper Floreat, the student newspaper at the University of Queensland in Brisbane, writing a series of stories featuring a fictional character named Commander Harrison Biscuit. He won a young writers award for the Independent, which was edited by Brian Toohey and wrote a number of articles for Rolling Stone and Australian Penthouse magazines.
---