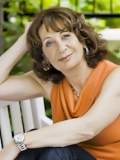 Joy Fielding currently lives in Toronto, Canada, and also spends alot of time in Florida.
After Joy graduated in 1966, with a BA in English literature, she went into acting full-time, where she moved to Los Angeles and acted in an episode of Gunsmoke and got to kiss Elvis Presley. She eventually returned to Toronto and went back to her love, writing novels.
Her favourite book she has written to date is See Jane Run, although her other particular favorites are Don't Cry Now, The Deep End, The Other Woman and my latest novel, Missing Pieces.
---