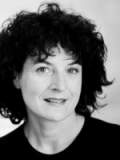 Kate De Goldi, who also writes under the name of Kate Flannery, was born in Christchurch, New Zealand in 1958. Before writing fiction, she held various jobs including library assistant, piano teacher, university tutor, nanny and researcher for the Marriage Guidance Council.
De Goldi wrote her first short story entitled 'Parkhaven Hotel' in 1987, for which she won the 1988 American Express Short Story Award. In 1991, she won the BNZ Katherine Mansfield Short Story Award for 'A Girl's Best Friend'. In 1994, as Kate Flannery, she wrote 'Like You, Really', a collection of adult short stories published by Penguin. The book was selected as a top 20 title for the 1994 New Zealand Listener Womens Book Festival, where De Goldi was a popular guest speaker.
Her more recent work has shifted to the genre of young adult literature. In 1995, she contributed to 'Falling In Love' (Puffin), a collection of short stories for young adults edited by Tessa Duder. For her debut young adult novel, 'Sanctuary' (Puffin 1996), De Goldi was named winner of the 1997 New Zealand Post Children's Book Award in Senior Fiction. She has also written 'Love, Charlie Mike' (Penguin YA) which was published in July 1997.
---