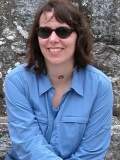 Kate Elliott is the pen name of American fantasy and science fiction writer Alis A. Rasmussen (born 1958).
Although Rasmussen's first novels The Labyrinth Gate (1988) and The Highroad (1990) (a science fiction trilogy) failed to become bestsellers, additional publishers liked her manuscripts but wanted a fresh name unconnected with the sales figures of the previous books. Starting in 1992 under the new name of Kate Elliott, her sales have flourished. Crown of Stars series has been featured in the Science Fiction Book Club.
A native of Junction City, Oregon, Rasmussen moved to Oakland, California to attend Mills College. There she became active in the Society for Creative Anachronism where she eschewed the more typical image of a medieval lady and pursued medieval sword fighting. Rasmussen met her future husband, Jay Silverstein, on the battlefield.
---