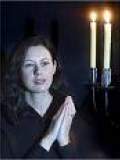 Kate Forsyth is an Australian fantasy author, best known for the Witches of Eileanan series, and the Rhiannon's Ride series, which is also set in Eileanan.
She is the author of several children's fantasy books, including The Gypsy Crown, The Starthorn Tree, Dragon Gold and Wishing For Trouble. She is an internationally published poet with a collection called Radiance, and has published a novel called Full Fathom Five under her maiden name, Kate Humphrey.
Kate Forsyth was born in the city of Sydney, Australia, in 1966. She wanted to be a writer from a young age. She learned to read early. Her first novel was written at the age of seven.
---