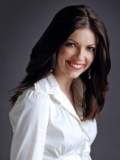 Kate Morton is the eldest of three sisters. She was born in South Australia and moved with her family numerous times before settling, finally, on Tamborine Mountain. There she attended a tiny country school and spent much of her childhood inventing and playing games of make-believe with her sisters.
Kate fell avidly in love with books very early. Her favourites were those by Enid Blyton, and Kate escaped many times up the Faraway Tree or with the Famous Five into smugglers' cove. It was a love deeply felt, for it is still mysteries and secrets that dance around the edges of Kate's mind, keeping her awake deep into the night, turning or typing pages.
When she finished school, Kate studied and earned a Licentiate in Speech and Drama from Trinity College London. After an ill-fated attempt to 'do something sensible' and obtain an Arts/Law degree, she went on to complete a summer Shakespeare course at the Royal Academy of Dramatic Art in London and for sometime believed her future lay in theatre. Until one day, quite simply and clearly, she realised that it wasn't performing she was in love with. It was words.
---