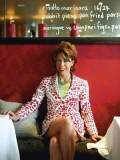 Kathy Lette (born 11 November 1958) is an Australian author who has written a number of bestselling books.
Born in Sydney's southern suburbs, she first attracted attention in 1979 as the coauthor (with friend Gabrielle Carey) of Puberty Blues, a strongly autobiographical, proto-feminist teen novel about two 13-year-old southern suburbs girls attempting to improve their social status by ingratiating themselves with the "Greenhill gang" of surfers. The book was made into a successful movie in 1981.
As an adult, Lette became a newspaper columnist and sitcom writer, but returned to the novel form with Girls' Night Out in 1988 and has since written several more successful novels and plays, including Foetal Attraction, Mad Cows in 1996 (which was made into a film starring Joanna Lumley and Anna Friel) and Dead Sexy.
---