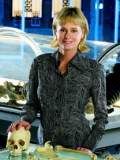 Kathy Reichs' first novel D j Dead catapulted her to fame when it became a New York Times bestseller and won the 1997 Ellis Award for Best First Novel. Her other Temperance Brennan novels include Death du Jour, Deadly Decisions, Fatal Voyage, Grave Secrets, Bare Bones, Monday Mourning, Cross Bones, Break No Bones, Bones to Ashes, Devil Bones, and 206 Bones, Spider Bones (August, 2010). Dr. Reichs is a producer of the hit Fox TV series, Bones, which is based on her work and her novels.
From teaching FBI agents how to detect and recover human remains, to separating and identifying commingled body parts in her Montreal lab, as a forensic anthropologist Kathy Reichs has brought her own dramatic work experience to her mesmerising forensic thrillers. For years she consulted to the Office of the Chief Medical Examiner in North Carolina, and continues to do so for the Laboratoire de Sciences Judiciaires et de M decine L gale for the province of Quebec. Dr. Reichs has travelled to Rwanda to testify at the UN Tribunal on Genocide, and helped exhume a mass grave in Guatemala. As part of her work at JPAC (Formerly CILHI) she aided in the identification of war dead from World War II, Korea, and Southeast Asia. Dr. Reichs also assisted with identifying remains found at ground zero of the World Trade Center following the 9/11 terrorist attacks.
Dr. Reichs is one of only eighty two forensic anthropologists ever certified by the American Board of Forensic Anthropology. She served on the Board of Directors and as Vice President of both the American Academy of Forensic Sciences and the American Board of Forensic Anthropology, and is currently a member of the National Police Services Advisory Council in Canada. She is a Professor in the Department of Anthropology at the University of North Carolina-Charlotte.
---