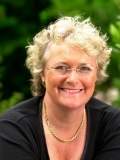 Katie Fforde is a British romance novelist. Currently she lives in Gloucestershire with her husband and some of her three children.
She is founder of the Katie Fforde Bursary for writers who have yet to secure a publishing contract. She was for many years a committee member of the Romantic Novelists' Association and was elected its twenty-fifteenth Chairman (2009 2011). In June 2010 she was announced as a patron of the UK's first National Short Story Week.
Her hobbies are ironing and housework but, unfortunately, she "has almost no time for them as she feels it is her duty to keep a close eye on the afternoon chat shows".
---