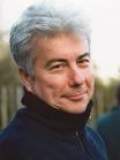 Ken Follett (born June 5, 1949) is a British author of thrillers and historical novels. He has sold a total of 100 million copies and has authored numerous bestselling works, such as The Key to Rebecca, Lie Down with Lions, A Dangerous Fortune, The Man from St. Petersburg and Eye of the Needle.
He married his first wife, Mary, in 1968, with his eldest son Emanuele being born in the same year. After graduation in the autumn of 1970 Follett took a three-month post-graduate course in journalism and went to work as a trainee reporter in Cardiff on the South Wales Echo. After three years in Cardiff he returned to London as a general-assignment reporter for the Evening News. Finding the work unchallenging he eventually left journalism for publishing and became, by the late 1970s, deputy managing director of the small London publisher Everest Books. He also began writing fiction during evenings and weekends as a hobby. Success came gradually at first but the publication of "Eye of the Needle" in 1978 made him both wealthy and internationally famous. Each of Follett's subsequent novels has also become a best-seller, ranking high on the "New York Times" best-seller lists, and a number have been adapted for the screen.
Follett became involved, during the late 1970s, in the activities of Britain's Labour Party. In the course of his political activities he met Barbara Broer, a Labour official, who became his second wife in 1984. She was elected as a Member of Parliament in 1997, representing Stevenage. She was re-elected in both 2001 and in 2005. Follett himself remains a prominent Labour supporter and fundraiser.
---