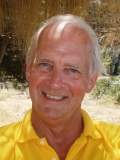 Ken McCoy was born in Leeds. Educated at St Michael's College when it was run by the Jesuits who were fervent believers in corporal punishment, and Ken, having delinquent tendencies, got more than his fair share. He began his working life as a trainee structural design engineer and ended up as a site engineer. He started his own construction business at the age of 26 and retired at 51.
Ken is interested in painting and most forms of illustration...and has drawn the covers on his books The Fabulous Fox Twins and Annie's Legacy.
Up until 1997 it had never occurred to Ken that he had any great talent for writing. When he started writing it wasn't with the intention of writing a whole book, it began with him doodling on his new computer. Ken found himself a literary agent, who told him he could write. The agent struggled to find a publisher for it and in the mean time Ken wrote a second book. It was this second book, a saga called Cobblestone Heroes, that got him published by Piatkus Books who, so far, have published 8 of his sagas. Once With Scraps was eventually published in 2002 by Severn House under the title The Fabulous Fox Twins.
---