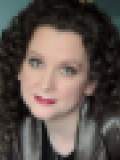 Laurell Kaye Hamilton was born in 1963. She is an American fantasy/romance writer. Hamilton is best known for her New York Times-bestselling Anita Blake series, featuring a female necromancer turned magical investigator as the protagonist. The series has gone beyond just the novels, with several short story collections, and other tie-in media, such as comic books. More than 6 million copies of Anita blake novels have been printed. Also notable is her Merry Gentry series, an urban fantasy in which the world of fairy interacts with the "real world".
Laurell was born in Heber Springs, Arkansas but grew up in Sims, Indiana with her grandmother Laura Gentry. Her education includes degrees in English and biology from Marion (now Indiana Wesleyan University), a private Evangelical Christian liberal arts college in Marion, Indiana that is affiliated with the Wesleyan Church denomination.
Hamilton is involved with a number of animal charities, particularly supporting dog rescue efforts and wolf preservation.
---