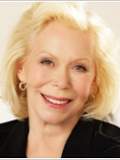 Recently described as "the closest thing to a living saint" by the Australian media, Louise L. Hay is also known as one of the founders of the self-help movement. Her first book, Heal Your Body, was published in 1976. Revised and expanded in 1988, this best-selling book introduced Louise's concepts to people in 33 different countries and has been translated into 25 languages throughout the world.
Louise's personal philosophy was forged from her tormented upbringing. Her childhood was unstable and impoverished, and her teen years were marked by abuse. Louise ran away from home and ended up in New York City, where she became a model and married a prosperous businessman. Although it appeared that her life had turned around, it was not until the marriage ended 14 years later that her career really began.
Louise started what would become her life's work in New York City in 1970. She attended meetings at the Church of Religious Science and began training in the ministerial program. She became a popular speaker at the church, and soon found herself counselling clients. This work quickly blossomed into a full-time career. She began travelling throughout the United States, lecturing and facilitating workshops on loving ourselves and healing our lives.
---