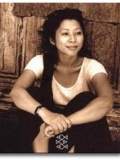 Loung was born in 1970 to a middle-class family in Phnom Penh. Five years later, her family was forced out of the city in a mass evacuation to the countryside. By 1978, the Khmer Rouge had killed Loung's parents and two of her siblings and she was forced to train as a child soldier. In 1980, she and her older brother escaped by boat to Thailand, where they spent five months in a refugee camp. They then relocated to Vermont through sponsorship by the US Conference of Catholic Bishops and Holy Family Church parish in Burlington.
Loung returned to Cambodia fifteen years after her escape for a memorial service for the victims of the Khmer Rouge genocide and was shocked and saddened to learn that twenty of her relatives had been killed. This realisation compelled her to devote herself to justice and reconciliation in her homeland. Learning about the continuing destruction being caused by the millions of landmines that still litter the countryside in Cambodia led Loung to work to spread the word about the dangers of these indiscriminate weapons.
Her memoir, First They Killed My Father: a Daughter of Cambodia Remembers, is a national bestseller and recipient of the 2001 Asian/Pacific American Librarians' Association award for "Excellence in Adult Non-fiction Literature" (APALA). The book has been published in eleven countries and has been translated into German, Dutch, Norwegian, Danish, French, Spanish, Italian, Cambodian, and Japanese. Loung has been the subject of numerous television programs, including documentary film broadcasts on NHK Television in Japan and by WDR in Germany.
---