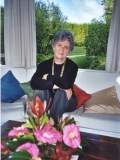 Lynley Dodd (born 1941) is a prominent author of children s books from New Zealand. She is best known for her Hairy Maclary series, and its follow-ups, all of which feature animals with poetic names.
She was born in Rotorua. She graduated from the Elam School of Art in Auckland. Her first book was My Cat Likes To Hide In Boxes which she wrote along with Eve Sutton. Her first book written solo was The Nickle Nackle Tree. As well as being a visual delight, these are some of the most rewarding books for children and adults to read out loud. It comes as no surprise that, as a child, she adored Dr Seuss because of his 'crazy sounds and the fact that he took such liberties with the English language.' Other favourite authors included A A Milne and the fairy tales of The Grimm Brothers and Hans Christian Andersen. Today, Lynley is a big fan of Quentin Blake 'because of his humour and very clever art work.'
She is now living in Tauranga.
---