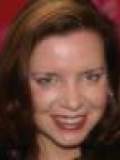 Lynsay Sands (born Leamington, Ontario) is an award winning Canadian author of over 30 books. She is noted for the humour she injects into her stories. While she writes both historical and paranormal novels, she is best known for her Argeneau series about a modern family of vampires.
Sands grew up in Southern Ontario. Before college Sands sent in a manuscript to Harlequin Enterprises, but got a response asking for a rewrite and anything else she had written; taking this as a rejection Sands on to study at the University of Windsor full time while working full time. Sands published her first novel, The Deed, in 1997.
Her novels have made the Waldens Books, Barnes & Noble, USA Today and The New York Times Bestsellers lists.
---