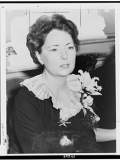 Margaret Mitchell was born in Atlanta, Georgia to Eugene Mitchell. Her childhood was spent in the laps of Civil War veterans and of her maternal relatives, who had lived through the Civil War. After graduating from Washington Seminary, she attended Smith College, but withdrew during her freshman year in 1918. She returned to Atlanta to take over the household after her mother's death earlier that year from the great Spanish flu pandemic of 1918.
Shortly afterward, she defied the conventions of her class and times by taking a job at the Atlanta Journal. Under the name Peggy Mitchell she wrote a weekly column for the newspaper's Sunday edition, thereby making her mark as one of the first female columnists at the South's largest newspaper. Mitchell's first professional writing assignment was an interview with an Atlanta socialite, whose couture-buying trip to Italy was interrupted by the Fascist takeover.
Mitchell married Berrien Red Upshaw in 1922, but they were divorced after it was revealed that he was a bootlegger and an abusive alcoholic. She later married Upshaw's friend, John Marsh, on July 4, 1925; Marsh had been best man at her first wedding and legend has it that both men courted Mitchell in 1921 and 1922, but Upshaw proposed first.
---