Who's Afraid Too?
---
Tommi Grayson: all bark, all bite . . . and now she's BACK!

After the sh*t show that was her family reunion, Tommi needed to get gone. She's spent the last few weeks trying to understand her heritage - the one that comes with a side order of fur as well as her Maori history and how she can connect to it.

But she can only escape for so long - when an unspeakable evil, thought long destroyed, returns, Tommi needs every bit of the skills she's learned. With the help of allies both old and new, she's going to take the fight to the enemy . . . Who's Afraid Too?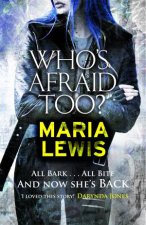 Who's Afraid Too?