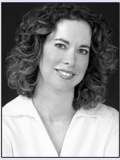 Maria V. Snyder changed careers in 1995 from being a Meteorologist to a Novelist when she began working on her first novel, Poison Study.
Born and raised in Philadelphia, Pennsylvania, Maria attended 12 years of catholic school before going to Penn State University to study Meteorology. Earning a Bachelor of Science degree in Meteorology, Maria discovered, much to her chagrin, that forecasting the weather wasn't one of her skills. She found employment in the environmental field as an air quality scientist, and it was during those years that she began writing. After writing many science fiction short stories, Maria started Poison Study, her first novel about a food taster.
Maria lives with her family in Pennsylvania.
---