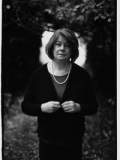 Marion Halligan was born in Newcastle, NSW, and grew up by the sea. She was educated at Newcastle Girls' High School and Newcastle University. Her home is now Canberra.
She has published twelve books, plus one jointly authored. Her novels include 'Self Possession', 'Spider Cup', 'Wishbone' and 'Lovers' Knots' which won several awards, including the Age Book of the Year Award (1992). In addition she has published collections of short stories, 'The Living Hothouse', 'The Hanged Man In The Garden', 'The Worry Box' and 'Collected Short Stories', as well as a book of stories and essays titled 'Out Of The Picture'.
Marion Halligan's work has been short-listed for most of the major literary prizes in Australia. Fox Icon has taken out a film option on 'Wishbone' and her most recent novel, 'The Golden Dress' is being translated into German along with 'Lovers' Knots'.
---