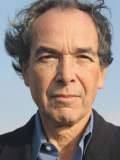 Martin Cruz Smith was born in Reading, Pennsylvania, in 1942. He originally wrote under the name Martin Smith only to discover there were other writers with the same name. His agent Knox Burger asked Smith to add a third name and Smith chose Cruz, his paternal grandmother's surname.
Martin Smith is a well educated man who studied at the University of Pennsylvania, and received a Bachelor of Arts in Creative Writing in 1964. Smith went on to become a well known author. He is best known for his novels featuring the Russian Ivestigator Arkady Renko. He has been very successful in hes writing career and his books have been called the "thriller of the '80s" by Time Magazine.
Martin Cruz Smith lives in San Rafael, California with his family.
---