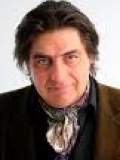 Matt was born on July 20 1961 in London, England. He is best known as a co-presenter on the hit television show Masterchef Australia. Matt is also an award winning food writer and critic, and famous for his unusual attire, including the ever present cravat tucked neatly around his neck.
He writes a weekly column for The Age newspaper called 'Unexplored' that features in the Epicure food section. He is a senior editor for magazines Delicious and Vogue Entertaining + Travel.
He has dedicated large parts of both his life and waistline to find the stories behind not only what we eat and why, to the stories of the people involved.
---