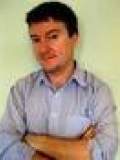 Matthew Hall was born in Perth, Western Australia, in 1967. While writing The Hard Way led him to experience the heady life of a soccer superstar through the eyes of Robbie Slater, the highlight of his own playing career came through scoring the equaliser for Subiaco City Under-14s in their dramatic cup clash against Spearwood Dalmatinac.
Since those self-described 'champagne' days, Matthew has lived in Sydney, New York, London and Prague, writing about entertainment, celebrity, sport, travel and armed conflict for publications around the world. He has written on football and its culture for Rolling Stone, Playboy, FHM, Inside Sport, and the Sun-Herald in Australia and FourFourTwo, When Saturday Comes, Football 365, Manchester United Magazine, and Total Sport in the UK.
He prides himself on never being afraid to ask the obvious. "Why? is always a good place to start," he says. He has recently put that very question to such diverse subjects as soccer great Pele, a group of undercover SAS soldiers, Britain's most notorious football hooligans, strippers in the suburbs of Sydney, and a man who jumped from a balloon that was 19 miles above the ground.
---