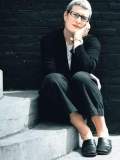 Meg Rosoff (born 1956) is an American author based in London since 1989. She is best known for her novel How I Live Now, which won 3 awards including the Guardian Award (2004), Michael L. Printz Award (2005), Branford Boase Award (2005) and was shortlisted for the 2004 Whitbread Awards in the children's book category.
Rosoff was born in Boston, MA in 1956, the second of four sisters. She attended Harvard University in 1974. After 3 years at Harvard she moved to England and studied sculpture at Central St. Martins in London, England. She returned to the United States to finish her degree in 1980, and later moved to New York City for 9 years, where she worked in publishing and advertising.
Aged 32, Rosoff returned to London and has lived there ever since. Between 1989 and 2003, she worked for a variety of advertising agencies as a copywriter. She began to write novels after her youngest sister died of breast cancer. Her young adult novel How I Live Now was published in 2004, in the same week she was diagnosed with breast cancer. It won The Guardian Children's Fiction prize, the Michael L. Printz Award in the United States, and was shortlisted for a Whitbread Award in 2004. In 2005 she published a children's book, Meet Wild Boars, which was illustrated by Sophie Blackall. Her second novel, Just in Case, was published in 2006 and won the 2007 CILIP Carnegie Medal and Germany's Jugendliteraturpreis. What I Was was published on August 30, 2007, followed by two additional collaborations with Sophie Blackall: Wild Boars Cook and Jumpy Jack and Googily. Her fourth novel, The Bride's Farewell, was released in September, 2009.
---