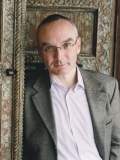 Michael Scott is an Irish author, born in Dublin in 1959.
Scott is a prolific writer of novels and short stories, for adults and children, in a variety of genres. His first three books were a culmination of many years traveling through all parts of Ireland, during which work as a dealer in antique and rare books brought him into contact with a huge body of Irish myths and legends, some of which were near-forgotten and had only ever been passed down verbally. Thus began Scott's life-long fascination with the world's many different mythologies.
Reviewing The De Danann Tales, the Irish Times hailed him as "the King of Fantasy in these Isles," and the Irish Children's Book Trust in their definitive Guide to Children's Books recognized him for his "unparalleled contribution to Children's Literature." The De Danann Tales was scheduled to be a series of four books but while cover images for the fourth title were released, only three were published.
---