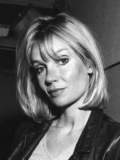 Mo Hayder is a British author of crime and thriller fiction.
She is the author of six novels. Her debut, Birdman, was published in January 2000 and was an international bestseller. Her second novel, The Treatment, was a Sunday Times bestseller and won the 2002 WH Smith Thumping Good Read award. Her third novel, Tokyo, was published in May 2004 and was another Sunday Times bestseller. Tokyo was published as The Devil of Nanking in the United States in March 2005. Pig Island was her fourth best seller and was published in April 2006. Pig Island was nominated for both a Barry Award for Best British crime novel, and a CWA dagger. Her fifth book, Ritual was the first in The Walking Man series, and was nominated for The CWA Ian Fleming Steel Dagger award. Her latest novel is Skin. It is the second book in The Walking Man series, and was released in early 2009.
Hayder left school at fifteen, and has worked as a barmaid, security guard, film-maker, hostess in a Tokyo club, educational administrator and a teacher of English as a foreign language. Hayder has an MA in film from The American University in Washington DC, and an MA in Creative Writing from Bath Spa University - where she now teaches.
---