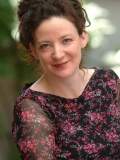 Australian-born Monica McInerney is the author of the best-selling novels Those Faraday Girls (The Faraday Girls in the USA), Family Baggage, The Alphabet Sisters, Spin the Bottle (Greetings from Somewhere Else in the USA), Upside Down Inside Out and A Taste for It, and a short story collection All Together Now, published internationally and in translation. Her articles and short stories have appeared in newspapers, magazines and anthologies in Australia, the UK and Ireland. Her most recent novel, Those Faraday Girls, won the General Fiction Book of the Year at the 2008 Australian Book Industry Awards. All Together Now was shortlisted in the same category in the 2009 Australian Book Industry Awards.
In 2006, Monica was the main ambassador for the Australian Government's Books Alive national reading campaign, for which she wrote a limited edition novella called Odd One Out.
Monica, 44, grew up in a family of seven children in the Clare Valley wine region of South Australia, where her father was the railway stationmaster and her mother worked in the local library. Since then Monica has lived all around Australia (in Adelaide, Sydney, Melbourne and Hobart) in Ireland (in County Meath and Dublin) and in London and also travelled widely.
---