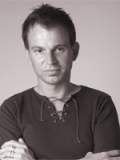 Neal Drinnan was born in 1964 in Melbourne, and was dubiously educated at various (now defunct) high schools and Camberwell Boys' Grammar. At the age of seventeen, he abandoned his education and suburban family home life for the lure of Chapel Street and life's more ephemeral things.
Neal has worked in publishing for many years and has been a frequent contributor to a number of magazines. He is the author of three novels - 'Glove Puppet', 'Pussy's Bow' and 'Quill'. His first, 'Glove Puppet' was controversial enough to incite passionate lesbian bar brawls over the pool table and good enough to be published as a hardcover by St Martin's Press in the USA.
Neal's writing is scandalously provocative and if readers are shocked by the morality of his tales they should, perhaps, spare a thought for the author and his diligent research. While people bicker and argue queer politics on the net, he's at the coalface of modern gay social intercourse.
---