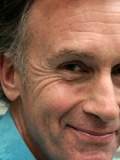 Nicholas Evans (born July 26, 1950 in Bromsgrove, Worcestershire, England) is an English journalist, screenwriter TV/film producer and novelist. Evans was educated at Bromsgrove School but before studying at Oxford University, he served in Africa with the charity Voluntary Service Overseas (VSO). He then studied journalism and worked as a newspaper reporter and television screenwriter. He lives in Devon. He has a son called Max Evans, who is head of geography at Preston Manor High School, and a daughter, Lauren. He also has another son Harry, from a relationship he had with Jane Hewland, the TV producer famous for Network 7 and Gamesmaster.
His novel, The Horse Whisperer was No.10 on the list of bestselling novels in the United States for 1995 as determined by the New York Times. Made into a motion picture, Robert Redford directed and starred in the film version opposite Kristin Scott Thomas.
He is married to singer/songwriter Charlotte Gordon Cumming.
---