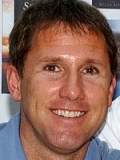 In 1985 Sparks penned his first novel, The Passing of Wind, while home for the summer between freshman and sophomore years at Notre Dame. It was never published. In 1989 he wrote his second novel, also unpublished, The Royal Murders. In 1994, over a period of six months, Nicholas penned what was to be his first published novel, The Notebook. He was discovered by literary agent Theresa Park, who picked The Notebook out of her agency's slush pile, liked it, and offered to represent him. In October 1995, Park secured a $1 million advance for The Notebook from Time Warner Book Group. The novel was published in October 1996 and made the New York Times best-seller list in its first week of release.
After his first publishing success, he wrote a string of international bestsellers, all of which were translated into over thirty-five languages. Four of his novels have been made into films: Message in a Bottle (1999), A Walk to Remember (2002), The Notebook (2004), and Nights in Rodanthe (2008).
Sparks has written an unsold screenplay adaptation of his novel The Guardian. He has the sold screenplay adaptations of True Believer and At First Sight.
---