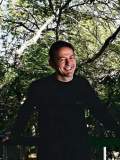 Nick Earls is the author of seven books, including the bestselling novels Zigzag Street, Bachelor Kisses and Perfect Skin. His work has been published internationally in English and translated, and this led him to being a finalist for the Queensland Premier's Export Award in 1999. He has also toured internationally performing Headgames at the Livid Festival in 1999. Zigzag Street won a Betty Trask Award in the UK in 1998, and is currently being developed into a feature film. Bachelor Kisses was one of Who Weekly's Books of the Year in 1998.
Headgames, a collection of short stories published in March 1999, was the highest-selling new Australian fiction title nationally that month. 48 Shades of Brown, published in August 1999 has recently won the 2000 Children's Book Council Book of the Year - Older Readers Award, and is currently being adapted for theatre following the success of After January.
His earlier works include the award-winning young-adult novel After January which was adapted for theatre by Brisbane company La Boite, and Passion, a collection of short stories that was equal runner-up in the 1993 Steele Rudd Australian Short Story Award.
---