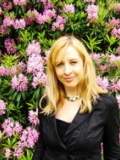 Before Paige became an author, she was a journalist, had summer/temping jobs as a waitress, a receptionist, and a telemarketer. Paige attended Mt Barker High School in Australia, then Altwood School in Maidenhead, Berkshire, followed by the University of Greenwich in London.
Paige believes apart from being a mum to son Indy, her greatest achievement would have to be getting a book deal and writing her first book Lucy In The Sky in two and a half months with a full time job and then seeing it published.
Paiges motto to all hopeful future authors - If you're not enjoying writing it, chances are your readers won't enjoy reading it, so if you're stuck, start afresh or move onto another scene you want to write instead.
---