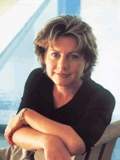 Patricia Cornwell was born on June 9, 1956, in Miami, Florida, and grew up in Montreat, North Carolina. After college she embarked on a career in journalism, where she excelled. She was promoted quickly and won awards for her work. Her first book, a biography of Mrs Billy Graham, was published in 1983, followed by her first novel in 1990, Postmortem. She had spent the intervening years working as a writer and analyst for the Medical Examiner in Richmond, Virginia. As so often happens, her first book was rejected by no less than seven major publishers before being picked up, and won several awards.
Cornwell is perhaps best known for her Scarpetta series, featuring Dr Kay Scarpetta. The Scarpetta character is semi-autobiographical in that Patricia and Kay share several facts and traits. The series is said to have influenced television shows such as CSI and Cold Case, and have been praised for their research, depth and style.
Patricia has also become heavily involved in promoting various charities, literacy programs, justice and providing scholarships.
---