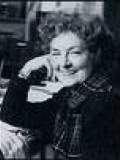 Patsy Adam-Smith, AO, OBE, is one of Australia's best-known writers. She was born in 1926 in Nowangie, Vic, the daughter of country railway workers; a childhood she wrote about in 'Hear The Train Blow', in 1964.
The author of some 28 books, Patsy Adam-Smith has the rare ability to tap our Australian consciousness and bring us closer to our national identity. Throughout her life she has displayed a passion for adventure and scholarship, and a great love of Australia.
Her bestseller, 'The Anzacs', shared the 1978 'Age' Book of the Year Award and was made into a popular TV series.
---