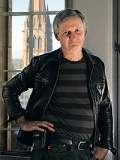 Paul Jennings
AM is a best-selling Australian children's book writer. His books mainly feature short stories that lead the reader through an unusual series of events that end with a twist.
Paul Jennings was raised in Heston, London, and at the age of 6 emigrated to Melbourne, Australia with his family. He attended Bentleigh West Primary School and Caulfield Grammar School. After graduating from school, he went to Frankston Teachers College (now part of Monash University) and became a teacher. He taught students at Frankston State School, Kangaroo Flat State School, the Turana Youth Training Centre, and the Royal Children's Hospital State School in Mount Eliza. He later went on to study at the Lincoln Institute of Health Science (now part of LaTrobe University) and became a speech pathologist, then worked as a Lecturer in Special Education at Burwood State College (now part of Deakin University). In 1979 he became Senior Lecturer in Language and Literature at Warrnambool Institute of Advanced Education (now part of Deakin University).
In 1985, Jennings' first book of short stories, Unreal! was published, during which he worked as a lecturer and wrote part-time; in 1989, he made the decision to devote his full time to writing. Many of his short stories, published between 1985 and 1991, were also adapted into the first and second series of the popular Australian television show
Round the Twist
.
---