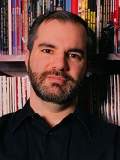 Peter V. Brett (born February 8, 1973) is an American writer of fantasy novels. He is the author of the ongoing Demon Series, whose first volume The Painted Man, was published in the United Kingdom in 2008. The book is known as The Warded Man in the United States where it was published by Del Ray Books.
Peter Brett developed an interest in fantasy from his early years, and also enjoys comics and role playing.
He studied English Literature and Art History at the University at Buffalo, graduating in 1995. Subsequently he spent more than ten years working in the pharmaceutical publication field, before becoming a full time novelist. He had, however, been writing fantasy stories across much of his life and The Painted Man was his fourth novel.
---