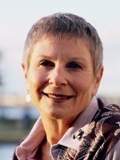 Petrea King is a well-known author, inspirational speaker, counsellor and workshop leader. She has practiced many forms of meditation since the age of seventeen and she is also qualified as a naturopath, herbalist, hypnotherapist, yoga and meditation teacher.
In 1983 Petrea was diagnosed with acute myeloid leukaemia and was not expected to live. Meditation and the integration of past traumatic experiences became paramount in her recovery, much of which was spent in a monastery near Assisi in Italy.
Since then, Petrea has counselled individually or through residential programs more than 60,000 people living with life-challenging illnesses, grief, loss, trauma and tragedy. Petrea sees crisis as a catalyst for spiritual growth and understanding and as an opportunity for healing and peace.
---