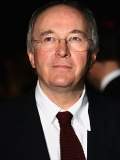 Philip Pullman was born in Norwich in 1946, and educated in England, Zimbabwe, and Australia, before his family settled in North Wales. He entered the teaching profession at the age of 25, and taught at various Oxford Middle Schools before moving to Westminster College in 1986, where he spent eight years involved in teaching students on the B.Ed. course.
Phillip has published nearly twenty books, mostly of the sort that are read by children, though the natural audience of his work is mixed in age.
Phillip's books have been honoured by several prizes, including the Carnegie Medal, the Guardian Children's Book Award, and (for The Amber Spyglass) the Whitbread Book of the Year Award - the first time in the history of that prize that it was given to a children's book, and the Eleanor Farjeon Award for children's literature.
---