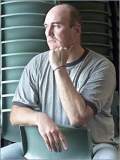 Phillip Gwynne's first novel 'Deadly, Unna?' was the surprise hit of 1998 and 1999. From a previously unknown Sydney writer it went on to win numerous literary awards including 1999 Childrens Book Council's Book of the Year Award (older readers), Children's Peace Literature Award, SA Festival Award for Childrens' Literature and the 1999 Victorian Premier's Literary Award, Schaeffer Pen Prize for Young Adult Fiction. 'Deadly, Unna?' is due to go into film production in 2000 with producer Mark Lazarus and director Paul Goldman.
Phillip has since written 'The Worst Team Ever' for the Aussie Bites series, and 'Nukkin Ya', the eagerly awaited sequel to 'Deadly, Unna?'
Phillip Gwynne is one of eight children and grew up in country South Australia where 'Deadly, Unna?' and 'Nukkin Ya' are set. He has worked at a number of jobs including computer programming and teaching and has a degree in Marine Biology. He now lives in Sydney with his son.
---