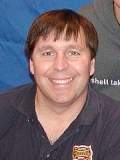 Robert Anthony Salvatore (born January 20, 1959, Leominster, Massachusetts), who writes under the name R. A. Salvatore, is an American author best known for The DemonWars Saga, his Forgotten Realms novels, in which he created the popular character Drizzt Do'Urden, and Vector Prime, the first novel in the Star Wars: The New Jedi Order series. He has sold more than 10 million copies of his books and eighteen of them have been New York Times best-sellers.
One of his most popular characters is Drizzt Do'Urden, a drow, or dark elf, portrayed against the stereotypes of his race, who defied a nation of evil enemies with his swordsmanship and courage. He abandoned the Underdark, a merciless and barren land of unmarked and limitless tunnels where deadly creatures continually lurk. His journey for freedom leads him to the surface where he faces discrimination at every turn because of his dark heritage. Drizzt stumbles along in a harsh world until he finally comes upon friends who understand the kindness of his heart. Together, they fight for justice against sinister enemies who dare to disrupt the peace of Drizzt's newfound homeland.
He is noted for his intense and descriptive battle scenes which have been attributed to his history as a bouncer.
---