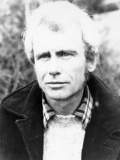 Randolph Stow (28 November 1935 29 May 2010) was an Australian writer.
Born in Geraldton, Western Australia, Randolph Stow attended Guildford Grammar School and University of Western Australia. He lectured in English Literature at the University of Adelaide, the University of Western Australia and the University of Leeds. He also worked on an Aboriginal mission as an anthropologist, used as background for To the Islands, and as a patrol officer in the Trobriand Islands, where he suffered a severe attack of malaria. He used this experience in Visitants.
For many years he lived in Suffolk in England, his ancestral county, and he used traditional tales from that area as the basis of The Girl Green as Elderflower; the last decades of his life he spent in nearby Harwich.
---